Free number tracing worksheets for preschool
Do you want your kids to learn to write numbers on their own?
Then you are at the right place, check these free number tracing worksheets.
Number tracing printables
Just like alphabets, kids need to learn to write numbers as well.
Once they learn to write numbers only then they can start maths.
So for this purpose, I have created this free number tracing worksheet.
All though it is designed for preschool students but if any kindergarten student is struggling with writing numbers they can use it too.
This worksheet has 1 to 10 numbers.
I have kept this worksheet short because once they learn to write these numbers kids can easily write higher numbers themselves.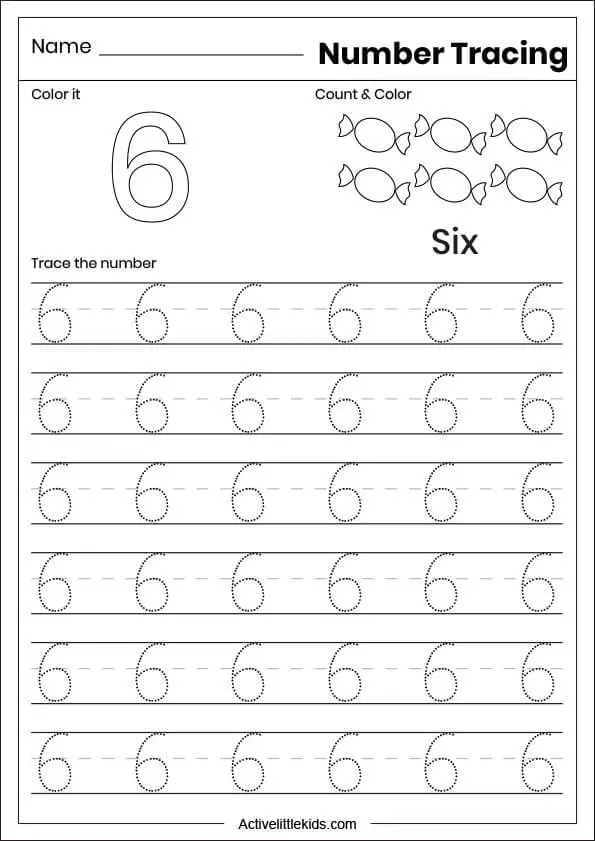 In each worksheet, kids will see the number first that they need to color.
I have used candies for counting so kids can learn to count as well as spell the number.
They can color the candies.
At last, there are six lines for tracing the numbers this should give them good practice.
I have used guided lines that will help them to write consistently.
I also have free alphabet tracing worksheets you can check them too if needed.
I hope these worksheets will help kids in learning number writing.
Other preschool worksheets
Long and short worksheet for preschool
Free preschool math worksheets
Free alphabet tracing worksheets
Counting worksheets for preschool
Coloring worksheets for preschool
Big and small worksheets for preschool
Note: These free printable worksheets are for personal or classroom use only. Altering or redistribution is not allowed in any way.