Free Kindergarten Writing Sentences Worksheets
Writing sentences is an essential writing skill that kids need to develop early in their life. Allow your kids to express their thoughts through these Free Kindergarten Writing Sentence Worksheets.
There are lots of printable Kindergarten Writing Worksheets which can help kids from tracing sentences to writing sentences on their own.
I have designed the worksheets in a way that it starts with simple activities to more complex sentence writing.
Free Sentence Writing Worksheets
Once kids have learned to write the alphabet, its time to move on to the next step.
Now they need to learn how to make words with alphabets, then sentences with words, then paragraphs with sentences, and so on.
These Kindergarten Writing Worksheets include various sentence writing and building activities like tracing sentences, reading and writing sentences, complete the sentences, scramble sentences and write your own sentence.
So kids start from simple activities and work their way to more complex worksheets one by one.
Tracing Sentence Worksheet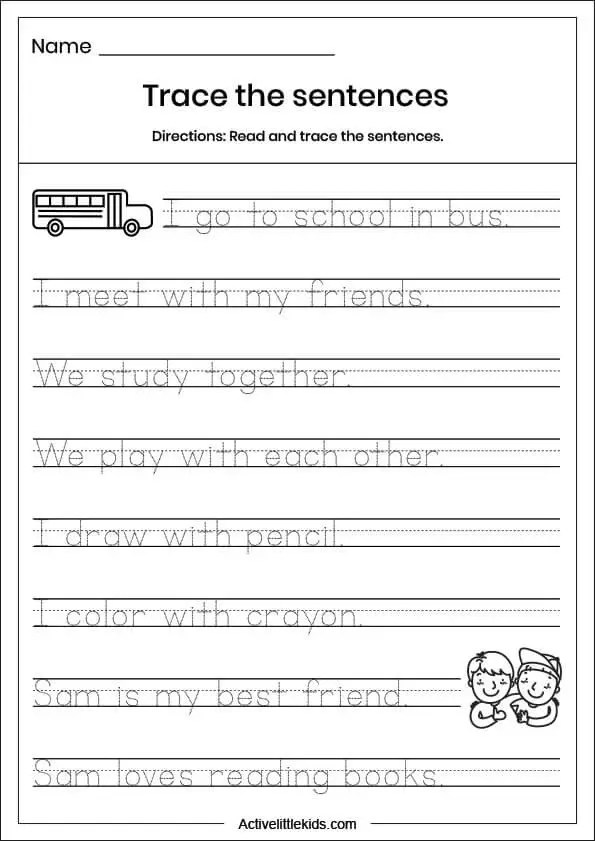 Kids will begin with this Sentence Tracing Worksheet, it is a very simple worksheet.
Kids will read and trace these simple sentences to learn how to build sentences.
Read and Write Sentence Worksheet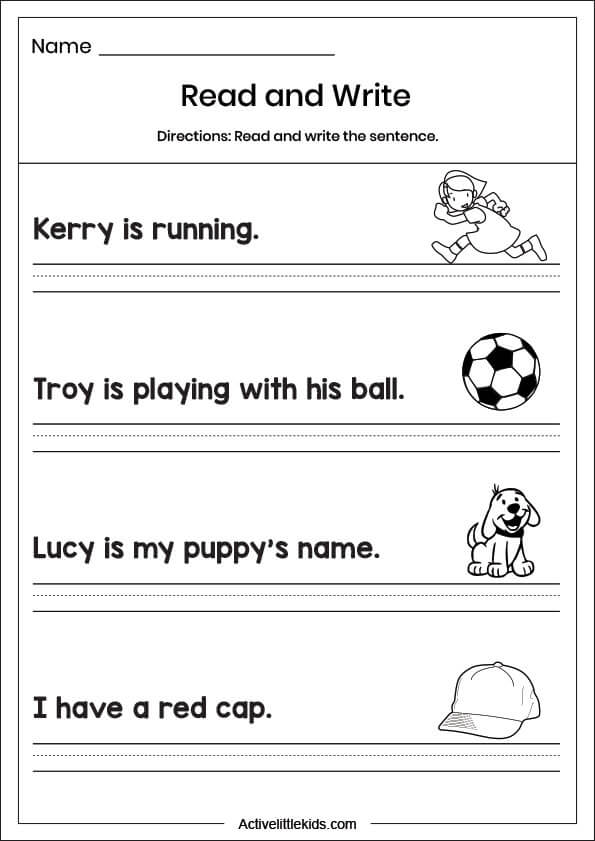 Since kids have got a basic understanding of how to build sentences, now they will read the sentence and write them on their own.
This will build their confidence in writing sentences on their own.
Free Complete the Sentence Worksheet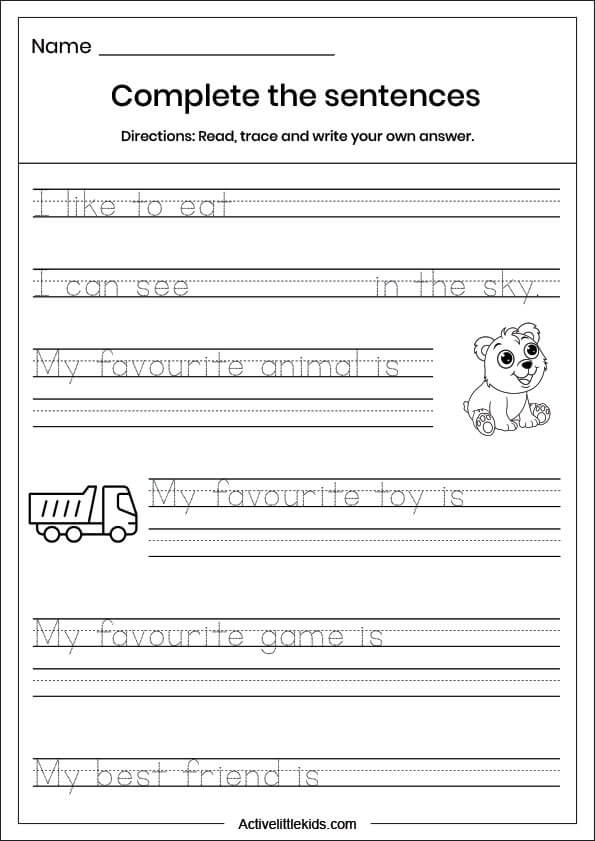 In the previous two worksheets, kids have got some idea of how to build simple sentences.
In this Complete the Sentence Worksheet, kids will start by tracing the words then they will write their own answers.
All the sentences in this worksheet are related to the kid solving it so if you are using this worksheet in a classroom then the answers should vary from student to student.
Sentence Scramble Worksheet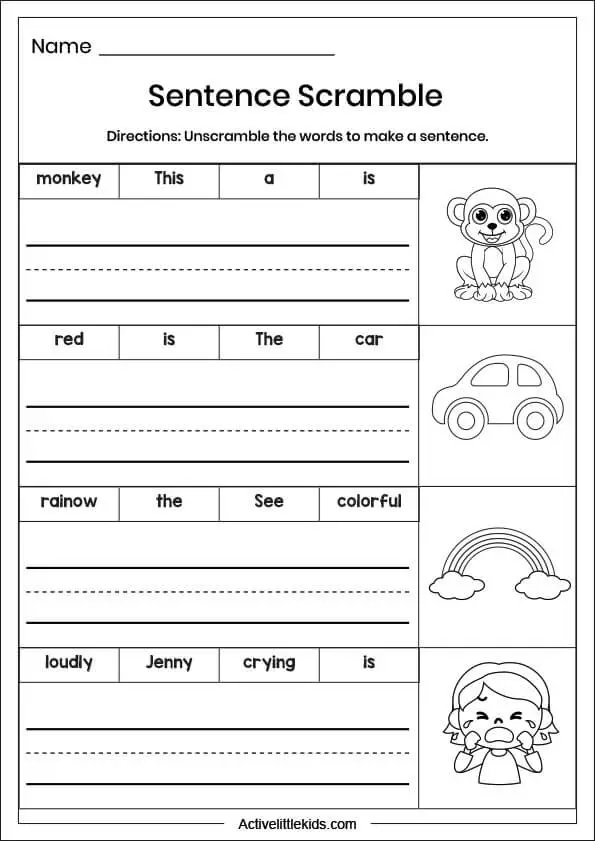 Now let's challenge the kids a bit further, kids will have to unscramble these words to build the sentences.
For their guide, they will have associated images with each sentence.
This will help the kids to develop their thinking power.
Write Your Own Sentence Worksheet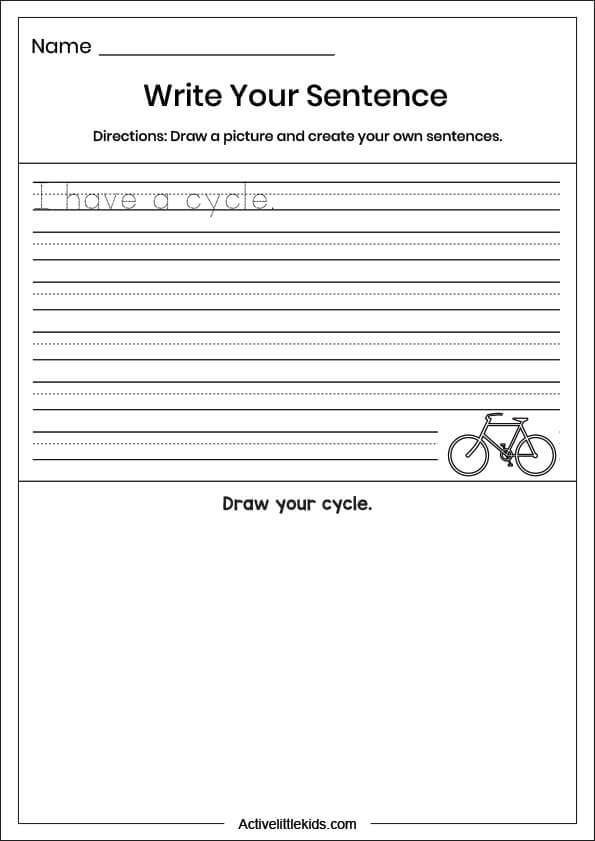 Kids love stories, this is where this writing prompt worksheet can be very handy.
This is a perfect worksheet for kids to think and express themselves while writing sentences.
Kids will write about their cycle, what color it is, how they play with it, where they go, and so on.
They will start by tracing the first sentence then they will complete the story.
Once they are done with writing they have to draw a picture of a cycle.
I hope these worksheets will help your kindergarteners learn to write sentences.
Note: These free printable worksheets are for personal or classroom use only. Altering or redistribution is not allowed in any way.
Other kindergarten worksheets