Kindergarten writing sentences worksheets
Writing sentences is an essential writing skill that kids need to develop early in their life.
My free kindergarten writing sentences worksheets can help you in this process.
Free sentence writing worksheets
This five page worksheet includes various sentence writing and building activities like tracing sentences, reading and writing sentences, complete the sentences, scramble sentences and write your own sentence.
So kids start from simple activities and work their way to more complex worksheets one by one.
Tracing sentence worksheet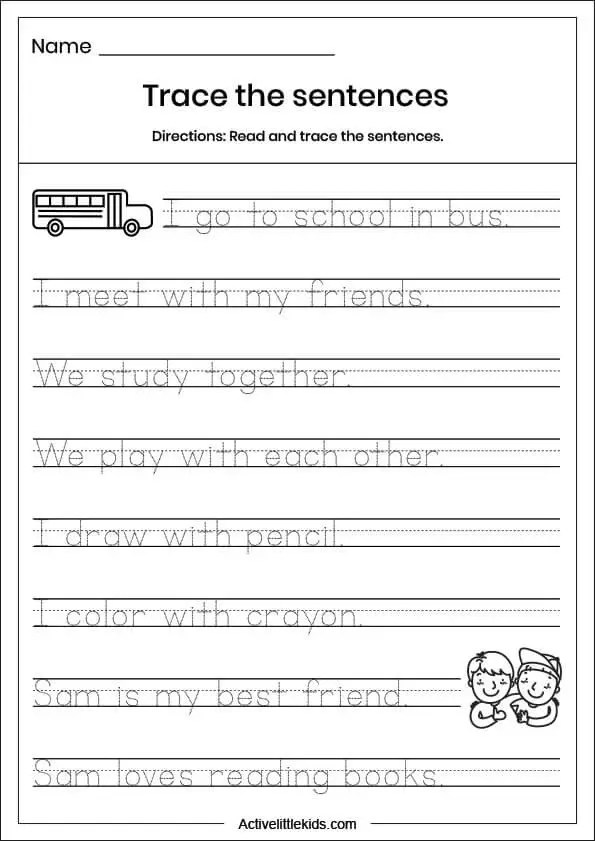 This is a simple sentence tracing worksheet. Here kids will learn very simple and easy sentences.
All the sentences are made for them so they learn how to build sentences, they will read and trace these sentences.
Read and write sentence worksheet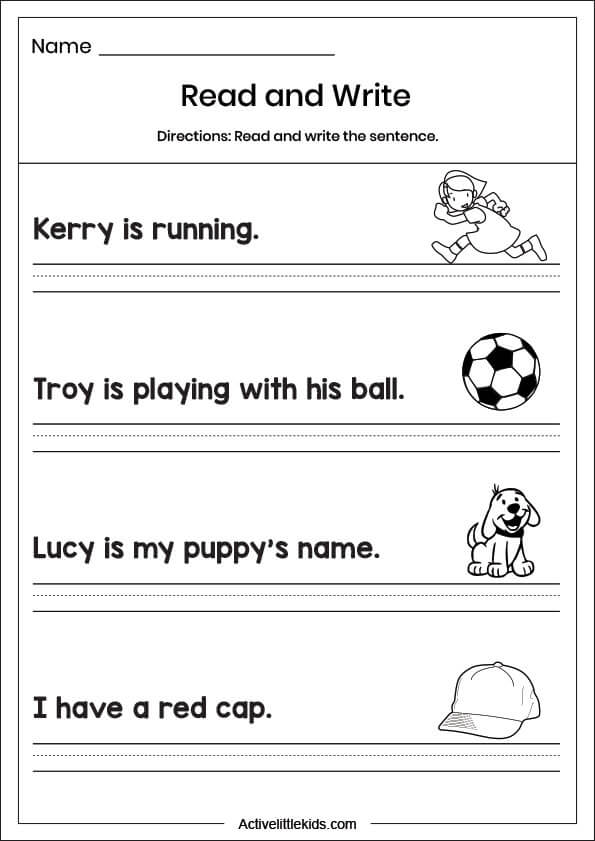 Next step kids will read the sentences and will write them directly on their own in this worksheet.
Free complete the sentence worksheet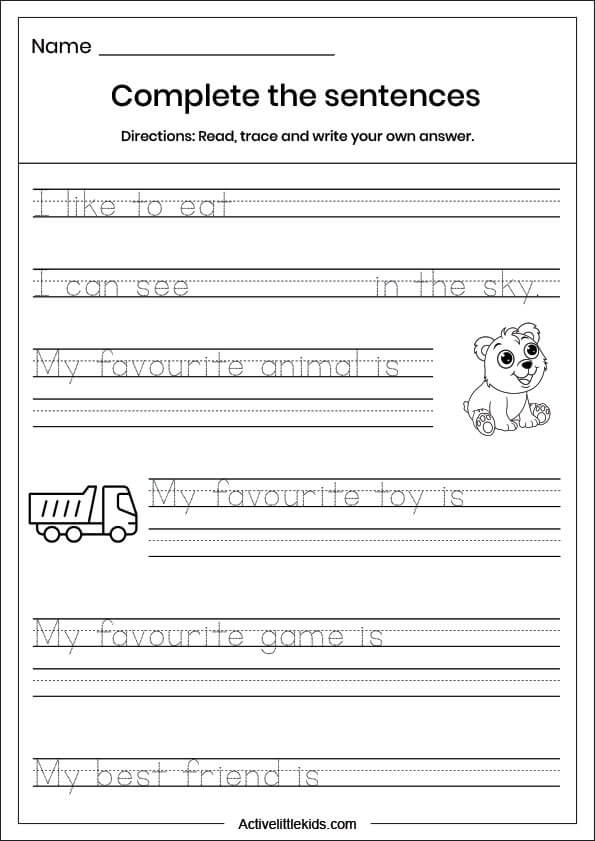 In the previous two worksheets, kids have got some idea of how to build simple sentences.
In this worksheet, kids will use that experience to complete the sentences with their own answers.
All the sentences in this worksheet are related to the kids solving it so if you are using this worksheet in a classroom then the answers should vary from student to student.
Sentence scramble worksheet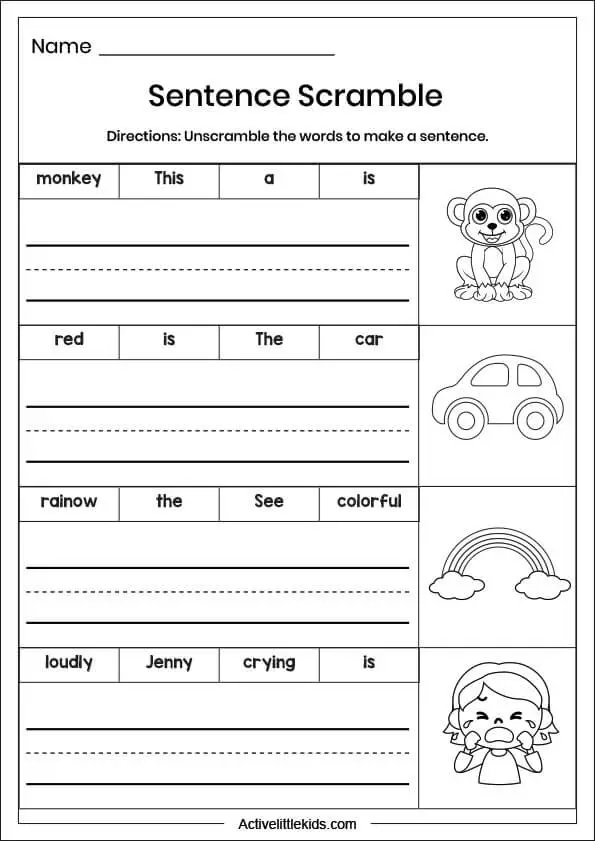 In this worksheet, kids will learn how to build sentences with scrambled words.
In each row, kids will find an image and some scrambled words related to that image. They need to unscramble the words and create a proper sentence.
Write your own sentence worksheet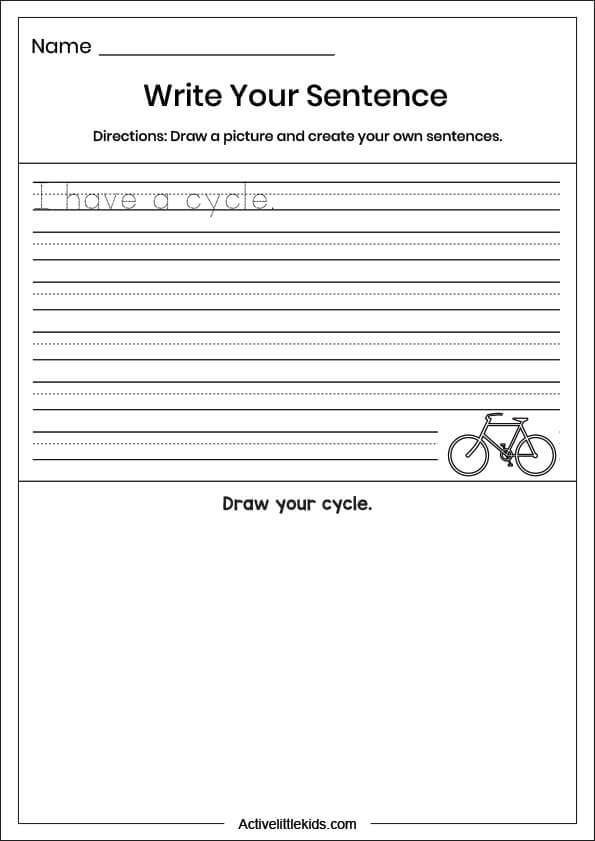 By now kids should be able to write simple sentences on their own. Because that is exactly what they need to do in this worksheet.
In this worksheet, a topic is given i.e. cycle, and a simple sentence is given too now kids will have to draw a picture of a cycle and create their own sentences around their cycle.
By solving this worksheet kids should be able to build and write simple sentences.
I hope these worksheets will help your kindergarteners learn to write sentences.
Note: These free printable worksheets are for personal or classroom use only. Altering or redistribution is not allowed in any way.
Other kindergarten worksheets